Our Delivery Model
How We Deliver Our Services and Drive Positive Results
How do you build an excellent reputation? Simple: provide positive results consistently throughout industry change. At Vertis Therapy, we're able to give our clients exactly what they need to achieve success however they individually measure it in a repeatable fashion because of our Delivery Model.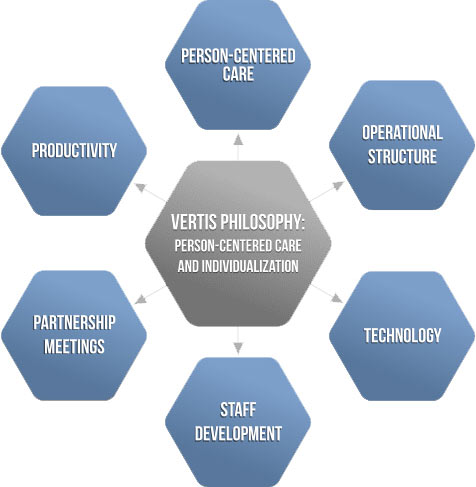 Our aim is to help your residents feel more at home and have the primary voice in their own care.
You deserve our undivided attention. We give it to you by limiting the number of facilities each regional director oversees. This means your Regional Director will be directly involved in the day-to-day operations of your facility.
Technology keeps us easily integrated with you and provides a competitive advantage for your facility. How?
All Vertis Therapy therapists use point-of-service technologies that allow for immediate treatment documentation instead of end-of-day documents. This keeps clinical, operational, and financial data accurate and streamlined.
Partnerships with companies like Accelerated Care Plus, VitalStim, Jintronix, and Rehab Optima allow Vertis Therapy therapists to use the latest tools and software to provide therapy and track progress for each patient or resident.
Quality care starts with the best therapists. Vertis Therapy therapists are highly trained and committed to building a relationship with you and your patients. Our therapists obtain continuing CEUs every year (up to $1,000 in value). They also:
Are mentored in their close work with Rehab Directors and Region Management.
Receive 4 to 6 visits by qualified ACP trainers and Clinical Specialists every year to increase their knowledge about new technologies.
Receive individualized documentation review, mentorship, and support from our compliance team.
Vertis Therapy's Regional Managers participate in monthly and quarterly meetings with administrators to ensure we are accountable for our performance. This means setting clinical, operational, and financial goals, reviewing results & reports, and adapting programs as necessary to better measure progress and achieve success for you and your patients.
Time with patients is not the only measure of "productivity." Time spent in care planning meetings, quality assurance meetings, staff training, and quarterly screenings helps ensure quality standards stay high.