Aging in Place for Dementia Populations
Posted on: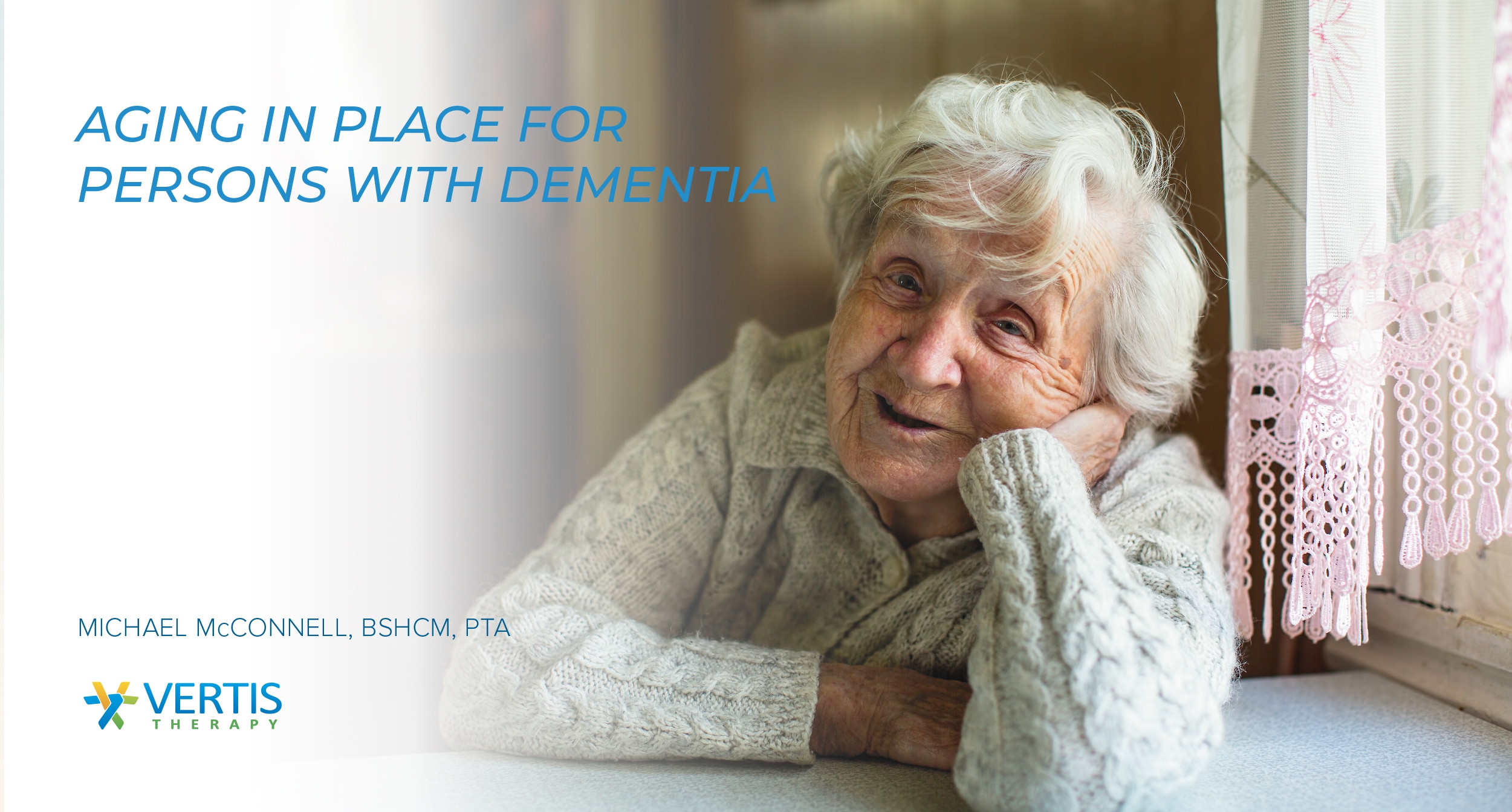 Michael McConnell, BSHCM, PTA
"Dad just isn't acting himself lately. He becomes easily frustrated with Mom. Last week we had to take him to the hospital due to his blood pressure being through the roof because he did not take his medications. He has the weekly pill box organizer, and with so many medications, I pray that mom is putting the right ones in on the right dates. I'm so busy with work and family that I don't have enough time to help out. What do I do?"
The diagnoses of Dementia or Alzheimer's Disease is never an easy one to hear. The emotional and psychological impact is felt by family, friends, and the person dealing with the disease. In 2019 there were an estimated 5.8 million Americans living with Alzheimer's and Dementia, according to Alzheimer's by the Numbers. Not all these individuals resided in a residential care facility or memory care unit. Someone with early onset dementia can continue to live a meaningful life at home safely when proper systems are put in place, support and health services are identified, and with modifications to the home environment. Some differences between normal aging and early onset of Dementia include: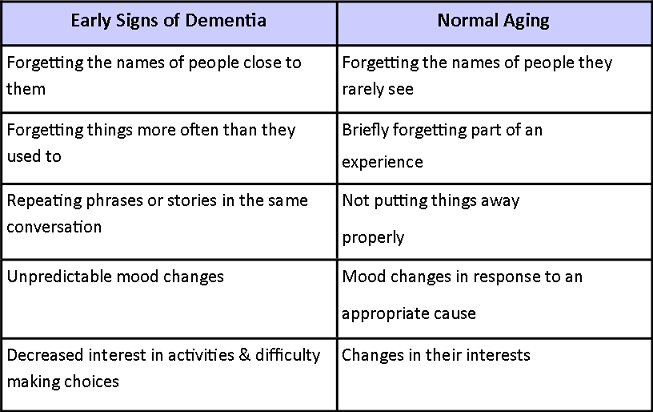 https://www.physio-pedia.com/images/f/f6/Early_Dementia_%26_Aging_Table_4.png
As human beings, we are creatures of habit. We all have our preferences, the things we like and dislike; are the very things that make us unique. Our routines and activities are no different from this mindset. In our heads, we have an organized activities list that we check off throughout the day. Most of these activities have become autonomic and often require little to no thought process in completing. Turning off the alarm clock, making the bed, getting in the shower, eating breakfast, and then getting in the car to drive to work are all things that make up our day to day routine. For someone with Dementia, checking off the activities list is not always an autonomic behavior, and certain tasks make it to the end of the day without being checked off. There is going to be increased difficulty with thinking, planning, learning, and retaining memories.
Home environment systems that provide reminders, recommendations, and routines enable someone with Dementia to safely live at home and continue to serve a meaningful life. The degree or level of supervision required to ensure safety varies from person to person. Not everyone is in the same stage of the disease process, and therefore requires different considerations. Medication management is a very important system that should never be overlooked. Weekly pill organizers are a convenient way of managing medications, but still, require an external source to place the medications in the organizer. Auditory and visual cues can assist with a general orientation to the date, day of the week, and time of day. Technological advancements in devices such as the "Echo Dot," can provide timed messages and reminders to perform activities such as taking out the trash, to remember to shut off the stove, and to stay drink fluids to prevent dehydration.
We all use different thought processes and coping mechanisms to handle external and internal stimuli. When a different or distracting form of stimuli is introduced to our environment, we think and adapt to make things work for us. If the adaptation takes time and is an inconvenience to underlying beliefs or activities, it creates stress. Normal individuals like you and I are able to handle this stress. Someone with Dementia even early onset, experiences a decline in the ability to effectively implement coping mechanisms, to handle different forms of stimuli. That is why something as simple as a change in environment, alteration of room temperature, and even the introduction of new laundry detergent may be stressful. Identifying and minimizing stressful stimuli will aide in the implementation of safe routines and activities. The home is the perfect environment to promote healthy versus stressful stimuli as there is a feeling of comfortability and familiarity.
The need for support and health services is only expected to increase once having received the diagnoses of Dementia or Alzheimer's Disease. Your primary care physician is going to want to monitor the overall medical condition and rate of progression. The need for rehabilitation services and skilled nursing care is also going to increase as functional deficits become more apparent. Having a reliable network of friends and family members is very important to assist with transportation to medical appointments, provide support, and allow for social integration. We are sociable beings at heart, and the best way to stimulate cognitive function is through interaction with other individuals.
Recent technological advancements have proven to be useful in promoting safety for those living at home with Dementia. Not everyone enjoys the push button necklace when in need of emergency assistance. Sometimes they can be bulky and awkward to wear all day. The new apple watch can work with a designated security provider, such as ADT, to establish an immediate call to Emergency Medical Services. Another feature is that it has a built-in sensor that can detect quick changes in velocity and vibrations to assist with fall detection and reporting of the incident to EMS or a designated person of contact. There are motion sensor systems on the market that identify movement at night to notify caregivers and automatically turn on the lights in the room where motion is detected to reduce fall risk.
The concept behind aging in place is not strictly limited to just the home environment or Dementia populations. The Greenhouse and Village models promote aging in place within a residential community geared towards providing nursing care, assistance with activities of daily living (dressing, bathing, meal prep), and rehabilitation services as the need arises. Examples of such communities can be found in Methodist Senior Services in Mississippi and the Greenhouse of Goshen – Blue Diamond.
According to the Alzheimer's Association, findings from the 2020 Alzheimer's Disease Facts and Figures Special Report reveal that by the year 2050, 13.8 million Americans will be living with Alzheimer's Disease or another form of Dementia. Aging in place for those with early onset Dementia is made possible through the implementation of safety systems, social integration, and minimization of stressful stimuli. Throughout the progression of the disease process, additional care will be required due to a decline in cognitive and functional abilities. Routine medical consultation and monitoring are important for overall health and well-being. The primary care physician can assist with identifying when other services are needed to support the quality of life and independence. Intermittent therapeutic interventions provided by Physical, Occupational, and Speech Therapists provide adaptation, restore function, and promote compensation where necessary to support Aging in Place.